Three opportunities
to provide personalized shopping experiences this holiday season
By Katie Arena | Director of Product Marketing
Last holiday season, retailers had to rethink their approach to advertising to keep up with changing consumer preferences. Some launched seasonal deals and promotions months in advance, a strategy that 52% of shoppers in the US took advantage of, according to the NRF. Others chose to shut down in-store operations on key shopping dates like Black Friday, and shift focus to e-commerce initiatives. While this year's holiday shopping scene leaves much to be determined, you can bet on the fact that the consumers path to purchase will be more fragmented than ever.
Retailers need to approach multiple channels and platforms as digital commerce opportunities to connect and engage their customers. It all starts with the right creative execution.
Bridge the gap between content and commerce
Enhanced Dynamic Product Ads
Dynamic Product Ads (DPA) are built to target customers with ads relevant to all stages of the sales funnel, and ultimately shorten a customer's path to purchase across social channels. Unlike traditional product carousel ads, DPAs feature creative ad templates that show products that align with what a viewer has seen or engaged with on a retailer's site. These data points can include browsing behavior, past purchase activity, contextual relevance, etc. DPAs are recommended for retailers looking to expand their retargeting strategies with large product sets.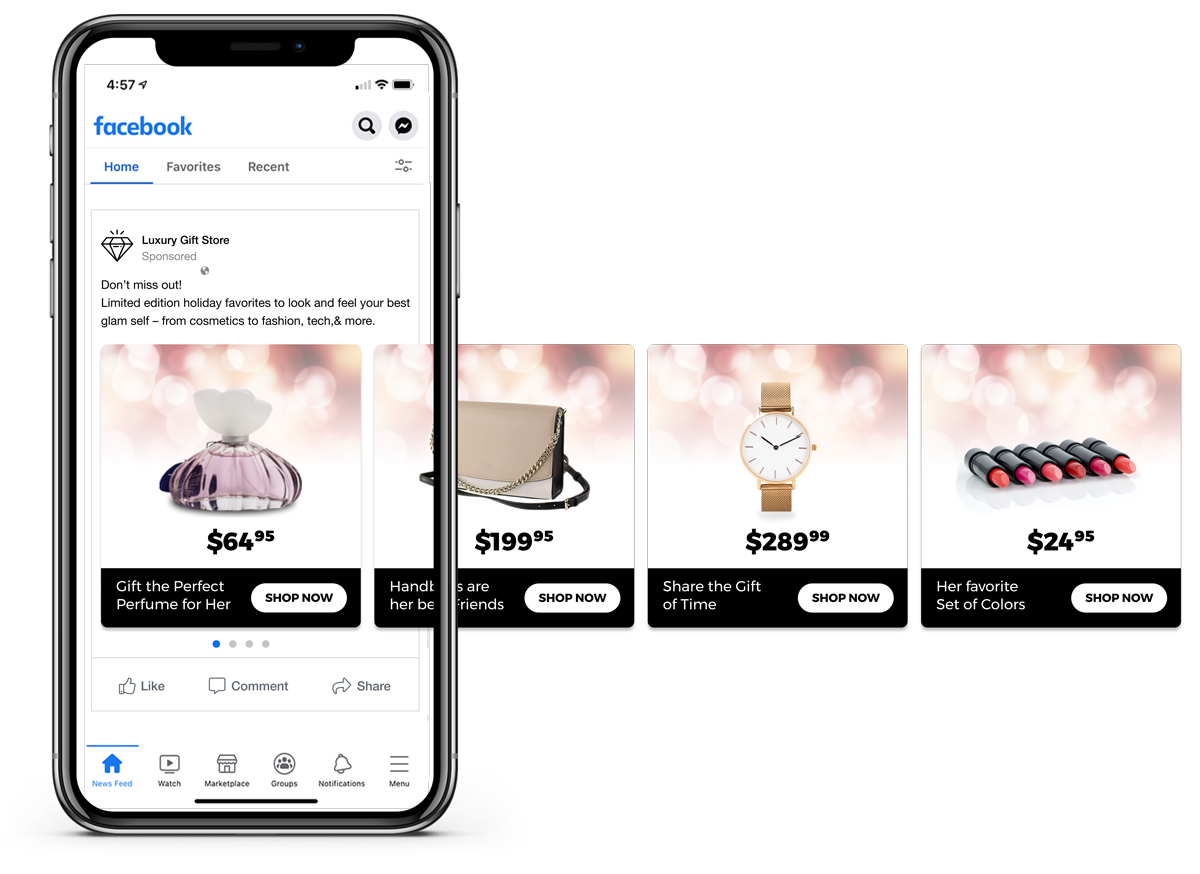 Advantages of Clinch Enhanced Dynamic Product Ads (DPA)
Build a more robust Facebook product catalog. Easily create image and style enhancements that go beyond generic stock templates and white image backgrounds
Enhance your creative assets with custom layouts, backgrounds, messaging, stickers, and more
Bring your product ads to life. Leverage existing assets to create video openers for product carousel
Best Practices for Dynamic Product Ads (DPA)
Refresh creative styles frequently to avoid ad fatigue
Add animations to remain visually engaging 
Incorporate seasonal tones into your creatives
Test various formats & easily optimize based on sales goals + engagements
When applicable, include multiple photos per item that emphasize specific features 
Foster customer engagement and drive sales
Clinch shoppable video enables brands to create hyper-personalized programmatic videos at scale and of superior quality. Dynamically map shoppable videos to unlimited and rich data feeds, location, inventory, products, and offers. Drive viewers to products via multiple click-outs within each fluid frame, to foster interactivity and inspire holiday purchases. Clinch shoppable videos can also accommodate functions like QR codes, surveys/polls, message sequencing, gamification, dynamic maps and more.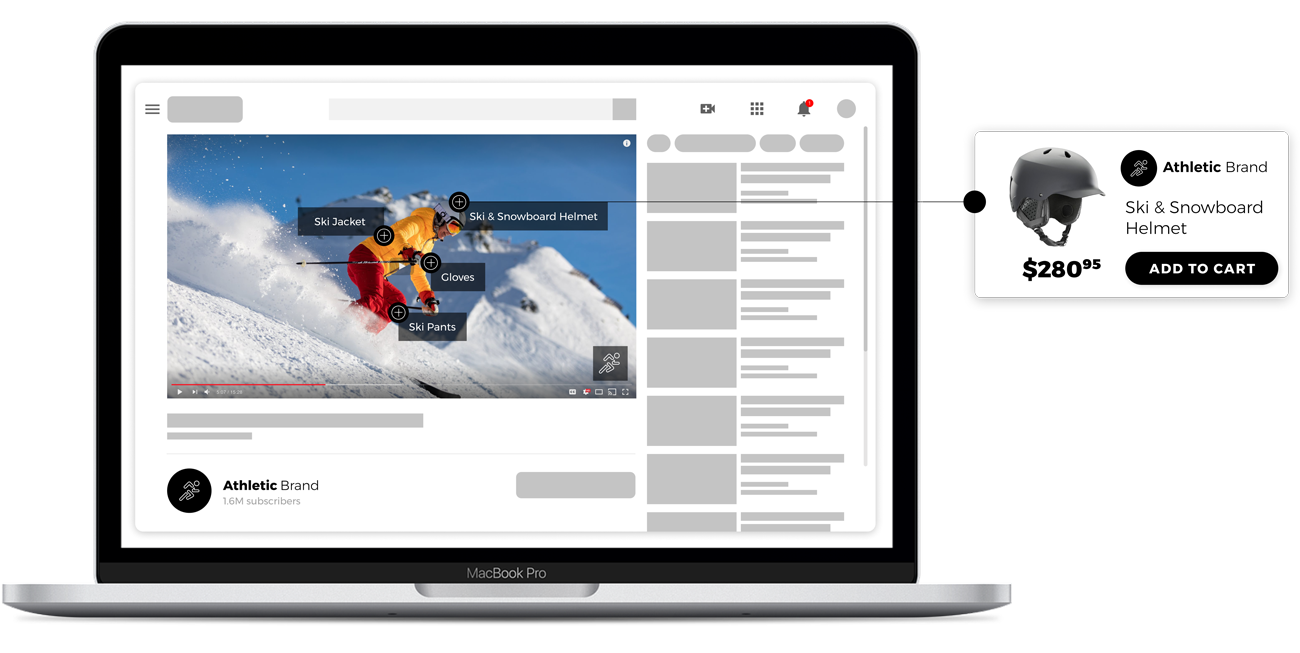 Advantages of Clinch Shoppable Video
Leverage existing assets or use Clinch creative authoring tools to build custom dynamic templates that compliment your brand style and campaign objectives
Multiple click out URLs provide the flexibility to deep link anywhere within the creative
Clinch's built-in third-party data integrations make it easy to activate real-time information into video, from weather to game stats/scores
You bring the media. We bring the creative. Clinch has already done the heavy lifting when it comes to most video platform and channel integrations, and seamlessly plugs into your existing media ecosystem for fast and efficient activation
Clinch shoppable video delivers on full funnel campaign objectives, from prospecting to retargeting 
Best Practices for Shoppable Video
Capitalize on complimentary products to encourage bundled purchases
Consider adding dynamic maps to drive foot traffic and offline purchases
Include text that helps guide viewers to an action
Don't underestimate the value of a clear CTA
Convert offline offers into Digital Omnichannel Campaigns
Bridge the gap between online and offline product discovery. Clinch Dynamic Circulars enable retailers to convert offline and app-based promotions into hyper-personalized omnichannel campaigns across digital, social, video, and connected TV (CTV). Custom APIs and advanced integrations enable hyper-accurate messaging that reflects real-time deals and promotions on an individual store-level, at unprecedented scale. 

Advantages of Clinch Dynamic Circulars
Faster speed to market with deals and discounts
Extend real-time messages across any channel, from programmatic, to social, to Connected TV
Clinch's unified platform makes it easy to manage offline and e-commerce sales objectives 
Hyper localization- product/offer per store/service per store and fulfillment opportunities (curb side pickup, in-store only, delivery) 
Best Practices for Dynamic Circulars
AB test and optimize towards products driving the most engagement
Don't limit yourself to one channel or platform. Your customers don't consume media in silos, so why should you advertise this way?
Consider adding real-time dynamic elements like countdown clocks, that spark urgency and excitement
Stand out this holiday season with engaging digital experiences
that are sure to drive customer engagement.